Unique top-rated breakfast and lunch restaurant in Seattle Downtown.
Skalka cafe was started in Seattle Downtown in late 2019 by two immigrants from Georgia and Russia who were on a mission to prove that authentic Eastern-European food should taste delicious and look phenomenal.
In Skalka, we make only one dish named Khachapuri and we do it right. Khachapuri is widely popular across Eastern Europe. In our chef hometown in Adjara, Georgia millions of tourists and locals spend hours waiting for freshly baked khachapuri, delicious boat-shaped pizza-like cheese bread. 
"Skalka" is a Russian word, which stands for a simple tool present in every bakery around the world. That name was chosen to emphasize that simplicity is at the core of what we do.  The essence of Georgian and Russian cuisine is to use the most well-known simple, highest quality natural ingredients and use cooking techniques that got perfected from generation to generation over hundreds of years to bring out outstanding flavor combinations. 
Khachapuri to be eaten by hand by ripping off chunks of the crust and plunging them into the dip. Khachapuri is just perfect for breakfast as for lunch or dinner.
We take it seriously. We start small batches of dough multiple times a day. We never refrigerate or freeze our khachapuris and make them by hand and bake to order.
OUR "All-Day BREAKFAST" MENU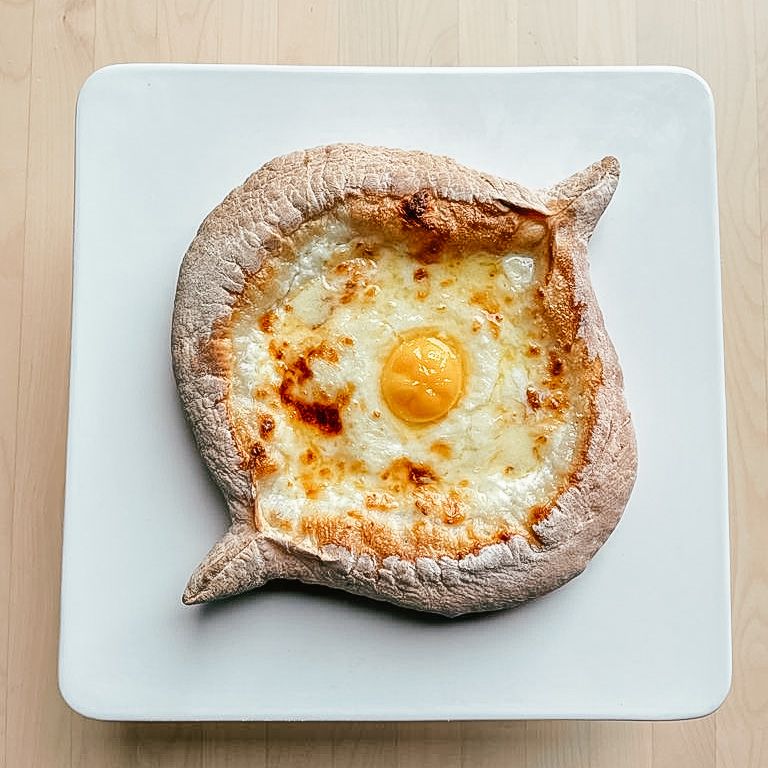 Adjaruli
Melty fresh cheese, grass-fed butter, and organic soft runny yolk (optional).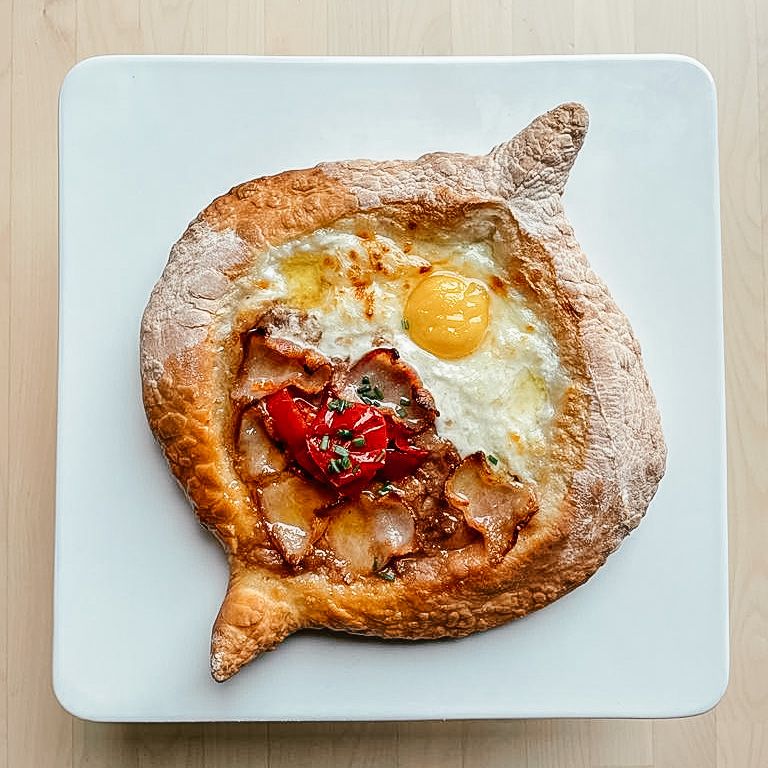 LOBIANI
Red beans, crispy bacon, and pickled red chili combined together with Adjaruli.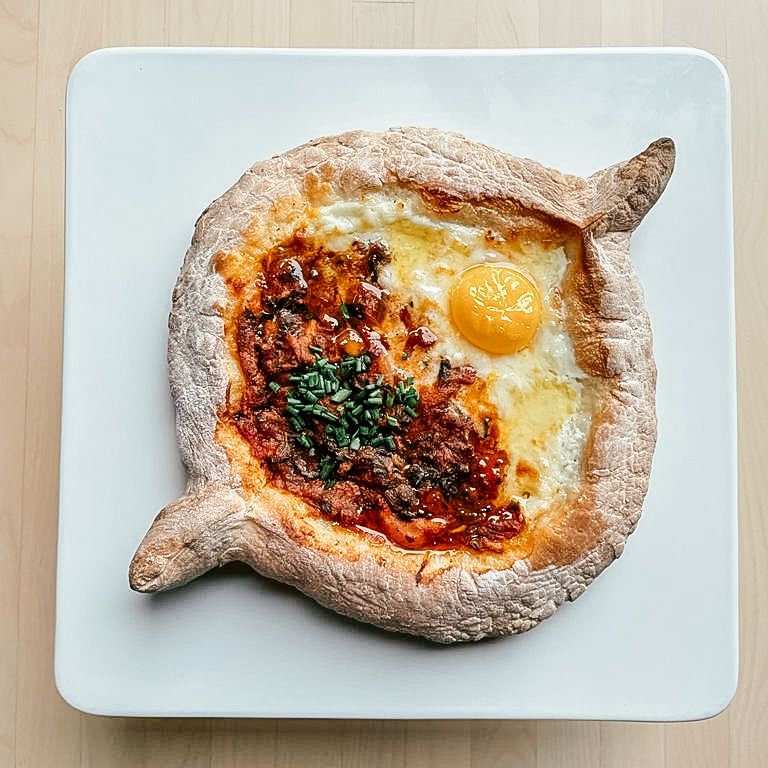 CHICKEN
Chicken with tomatoes and fresh herbs combined together with Adjaruli.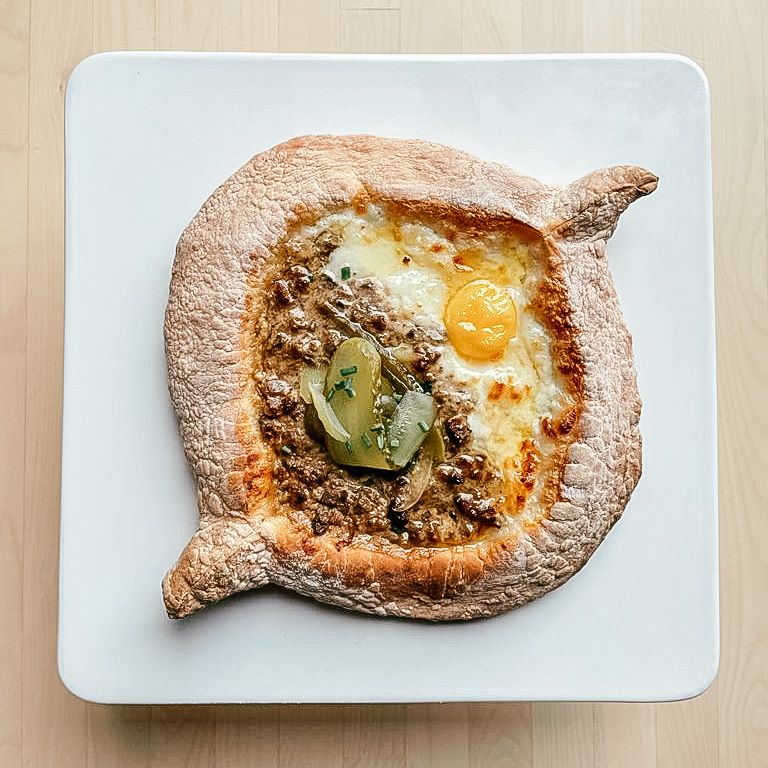 STROGANOFF
Shredded beef and mushroom in a creamy sauce topped with pickles combined together with Adjaruli.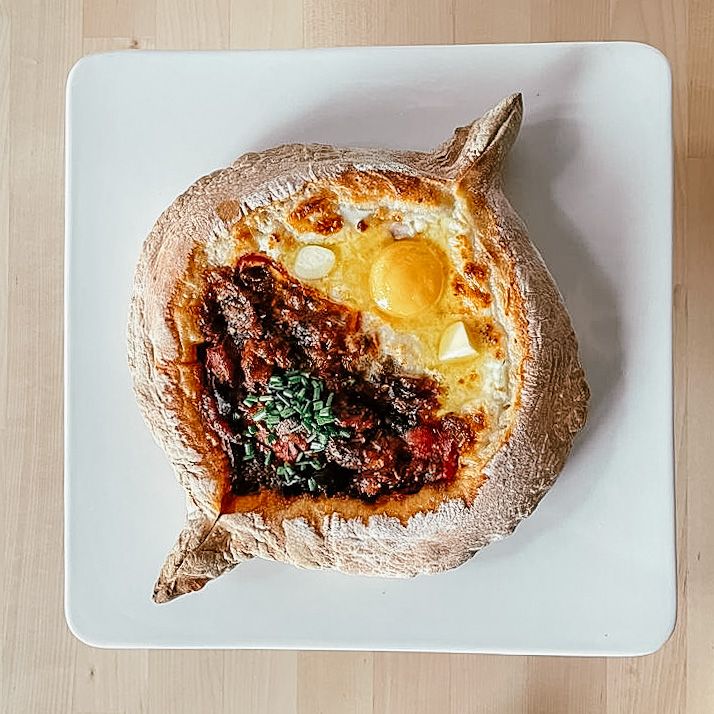 VEGGIE
Eggplants, red bell peppers with tomatoes, and fresh herbs combined together with Adjaruli.
When restaurant is busy it takes ~30 minutes from placing an order to getting the food. Here are the the exact steps how we make khachapuri: 
Hand stretch the dough ball and form it into khachapuri shape. Fill the khachapuri with the filling of choice. Takes from 1 minute to 15 minutes when dozens of kahchapuri in the line.
Bake for 8-20 minutes. Add egg yolk and bake for another 1-2 minutes.
Put garnishing on top and package. Takes 1 – 5 minutes depending on the line size.
Enjoy!
Back in April 2021 we have reduced our menu to khachapuri only. That was hard decision to make, but we had no other choice to be able to recover from COVID-19 affect on Seattle Downtown. 
FIND US IN SEATTLE DOWNTOWN
1 block from Seattle Waterfront
3 blocks from Seattle Grate Wheel and Ferry Terminal
5 blocks from Pike Place Market And Pioneer Square